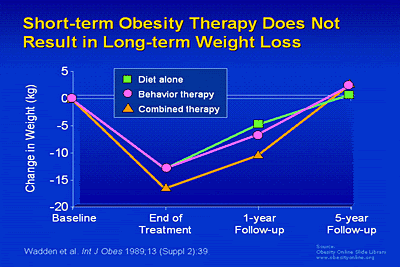 Obesity is a chronic disease that requires long-term therapy for successful long-term weight management. Often, patients who are able to lose weight with obesity therapy regain their lost weight after therapy is discontinued. This figure represents data from 76 obese women (mean body mass index 39.4 kg/m2) who were were randomly assigned to one of three treatment groups: 4 months of a very-low-calorie diet (VLCD) of 400–500 kcal/d, 6 months of behavior therapy and a 1000–1200 kcal/d balanced deficit diet, or 6 months of a combination of a VLCD and behavior therapy. Each treatment program was effective in achieving short-term weight loss. However, most subjects regained a considerable amount of weight by 1 year and had returned to their pretreatment weight at 5 years.
Wadden TA, Sternberg JA, Letizia KA, et al. Treatment of obesity by very low calorie diet, behavior therapy, and their combination: a five-year perspective. Int J Obes 1989;13 (suppl 2):39-46.
Maintenance does not exist after following the Kimkins plan. It has been proved not only by people who have lost their weight. But research shows it to be true. I hate to burst the bubble of all those people like Deni, Christin and others who reached goal with Kimkins---you are gonna gain it all back and then some.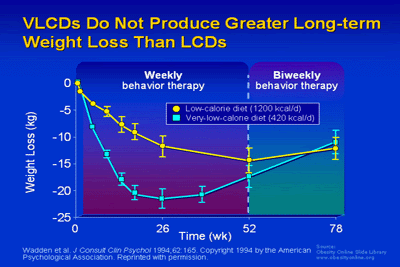 Very-low-calorie diets (VLCDs) usually provide 400–800 kcal/d and produce an average weight loss of approximately 20 kg over 12 to 16 weeks [1]. However, these diets may not result in greater long-term weight loss than standard low-calorie diets (LCD), which provide 1200–1500 kcal/d, because of greater regain of lost weight. This figure illustrates the data from a randomized, prospective study conducted in 49 obese women that compared the effect of a VLCD with a LCD on short-term and long-term weight loss [2]. Subjects were randomized to behavior therapy combined with either a LCD (1200 kcal/d) throughout treatment or with short-term use of a VLCD (420 kcal/d) for 16 wks followed by a 1200 kcal/d diet thereafter. All subjects attended weekly group behavior therapy sessions for 52 weeks, and then biweekly sessions for an additional 26 weeks. Initial weight loss was more rapid and of greater magnitude in those randomized to a VLCD than a LCD; at week 26, the VLCD group had lost significantly more weight than the LCD group (21.5 kg vs 11.9 kg). However, the VLCD group regained weight rapidly, so total weight loss was similar in both groups by 78 weeks. The use of a VLCD requires more medical supervision than does the use of a LCD, because rapid weight loss associated with VLCDs increases the risk of gallstone formation, dehydration, and electrolyte abnormalities.
Wadden TA, Van Itallie TB, Blackburn GL. Responsible and irresponsible use of very-low-calorie diets in the treatment of obesity. JAMA 1990;263:83-85.
Wadden TA, Foster GD, Letizia KA. One-year behavioral treatment of obesity: comparison of moderate and severe caloric restriction and the effects of weight maintenance therapy. J Consult Clin Psychol 1994;62:165-171.
Anyone having lost weight by using a VLCD or even a LCD have one of 2 options. Well 3 if you count just regaining any lost weight and
being happy that way
.
First you can continue to follow a VLCD or LCD for the rest of your life. With
considerable risk to your health
if you do so. Or you can
heal your metabolism
, regaining some weight in the process, then
lose weight the right way
.